Happy 4th of July to everyone in the US. As you celebrate Independence Day please be safe. Enjoy your travels, family, and friends. Throw a hamburger on the grill for me. Thanks.
Mom's Love 365 24/7
A mothers love is 365 24/7. This scroll saw pattern represents that love.
Thumb Screw for DeWalt style scroll saws:
One very common question I receive is about blades slipping out of the clamps. I am going to especially address this to the DeWalt, Excalibur, Delta models of scroll saws that use the thumb screws pictured above.
When a blade starts slipping out of either the upper or lower clamps it is tempting to just over tighten the thumb screw. This practice will lead to a bent clamp head and even more slipping. You will have to replace the clamp head once this happens. You only need two finger pressure to tighten the clamps if all the parts are good.
The correct way to fix this problem is to repair or replace the thumb screws. These parts are wear items. They will not last forever. How often you have to do this depends on how you use your machine.
Repairing can be done in two ways. My recommendation is to replace the parts. Many people will use sandpaper to scratch up the surface of the tip. This does work and I have done it myself. I think this is appropriate for a temporary fix. My experience is that replacing the parts is easier and works better in the long run. You can ruin the thumb screw tip with sandpaper if you are not careful.
One thing that many people do not know is that the tip of these thumbscrews can be removed and replaced. You can get what is called a
renewal kit from Seyco for $6.30 + shipping of around $5
. The kit comes with the replacement bearing for both thumbscrews and two set screws. This kit allows you to replace all four points of contact. My suggestion is that you replace all at the same time.
These replaceable bearing serve two purposes. They allow you to only replace the wear point but they also prevent what we call the hockey stick effect on scroll saw blades. As you tighten the thumb screw the bearing rotates allowing it to clamp down on the blade without applying rotating torque and bending the blade. I have seen these bearings bind up and not rotate. You can sometimes just pull them out and push them back in and they will rotate freely again. Other times they need to be replaced. Some third-party replacement thumbscrews do not have these replaceable bearings. Do not buy these. They just don't work well.
Hockey Stick Scroll Saw Blade.
Obviously, you can also replace the entire thumb screw. I only recommend this if yours is lost or otherwise damaged. The Amazon link above is a decent source for the thumb screw. It is $15.75 plus free shipping for one thumb screw. Yes, they are expensive. The bearing in the tip makes it more difficult to produce and so it is more expensive than a common screw. The Amazon price compares with the price from DeWalt of $11.41 plus shipping of $10.99. Ereplacementparts.com has them for $13.01 plus $5.50 shipping.
This picture is an example of a DeWalt scroll saw clamp head that has been damaged from over tightening the thumb screw. If you look close enough you will see a small gap between the set screw and the thumbscrew. If you have this problem the blade will slip out very easily and replacing the set screws will not help. This is, unfortunately, a very common problem. The heads are spared parts and can be rodered and replaced.
Woodworker Guild of America Blogger Awards: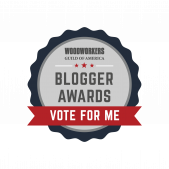 The
voting for the WWGOA blogger awards is underway
. The Scrollsaw Workshop is honored to have been selected as a finalist again this year. I am up against two of the finest woodworking content creators on the internet. Marc Spagnuolo and Jay Bates both have outstanding followings and make wonderful content.
They have me in the "Best furniture making blog" category. No, I have no idea how I got in that category but it's just nice to be mentioned.
If you would like to
vote for me just click the link
. You have until July 13th, 2018 to vote.
Exciting News. We have another giveaway for this month.
We will have three winners.
#3 will receive an incredible scrolled piece of art by Charles Dearing. This artwork will be cut live at the show. After the show, it will be packaged and sent to the winner. You will love this artwork.
The contest is open to the world. Enter once per day.
The entries will end 7/31/2018 at midnight. Winners will be drawn during the show.
We will try to stream the drawing live if we have a decent internet connection.
Then I will show you the technique to take your photograph and make a pattern from it. When the pattern is complete we will go in the shop and cut it.
The Scrollsaw Workshop is primarily supported by donations. If you enjoy this Blog and would like to make a donation please click this Button. Your support is greatly appreciated.
Support the businesses who support our community.
Home of Pegas scroll saw blades.
Ad: Affiliate
Includes a 1/2-inch keyed chuck and onboard key storage

Operates at 5 different speeds: 740, 1100, 1530, 2100, 3140 RPM

Spindle travels up to 2 inches with easy to read, locking linear depth stops for accurate and repeatable drilling operations

Durable 1/3 HP induction motor develops ample torque and power

6-1/2 x 6-1/2" worktable is height adjustable and bevels up to 45 degrees left & right

Swing: 8 inch. Motor: 120V, 60Hz. Horsepower: 1/3 HP.