Several people missed the post from Monday so I am posting it again. I don't want anyone to miss the giveaway.
Once again
Sue Mey
is offering an opportunity for one of my readers to win a gift certificate for $35 off any purchase on her site. A second winner will receive a $25 gift certificate for a purchase on Amazon.com.
To
ENTER
send an email to
giveaway@stevedgood.com
.
Type
GIVEAWAY
in the subject.
In the body of the email tell me what brand of scroll saw you use. If it's a laser or CNC then list that.
Deadline for entry is
Friday July 11th, 2014 midnight Eastern time in the US
.
You can enter one time per day.
The winner will be picked at random from entries who follow the guidelines above.
The only information that will be shared from the contest entry is the winners email will be sent to Sue so she can send the certificate. All other email is for my knowledge. I will not share or sell any of the data with anyone.
_________________________________________________________________
Note: The items shown are linked to the website - Click on either the Description or the Image for it to open there
The decorative trivet patterns below vary from highly detailed to simple, and feature a variety of shapes. All are approximately 8" (200mm) in diameter. I have had a lot of feedback to say that trivets are highly popular at craft shows, so decided to put together a bunch of new ones at a low cost. Cut the trivets from 1/2" to 3/4" (12mm to 19mm) hardwood or, if you struggle to cut hardwoods, use softer wood like pine or red cedar. You can also stack-cut them from 1/8" good quality birch ply, attached to thicker wood of a contrasting color. Use mineral oil on natural wood if the trivets will be used in the kitchen. Reduce the sizes of the patterns to make ornaments or attach a material bow at the top of the round shapes for hanging wreaths. See the product description for more ways to use these patterns.
From the category
Special Offers
NW803
Trivets pdf book
- Fifty Trivet patterns - Value $250.00 Save $204.05 and pay only $0.91 per pattern $45.95. Patterns can also be used as plaques, trinket box lids, or sun catchers.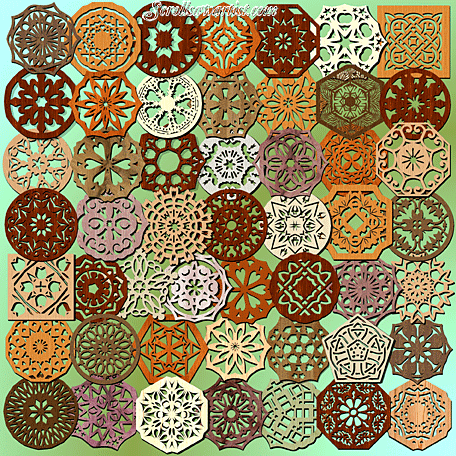 ~~~~~~~~~~~~~~~~~~~~~~~~~~~~~~
~~~~~~~~~~
Have you seen - from the section
Miscellaneous>Compound cut/3D
CH066
Compound cut (3D) ornaments #1
Set of 15 $10.00 (Cut and photographed by Dennis Merkle)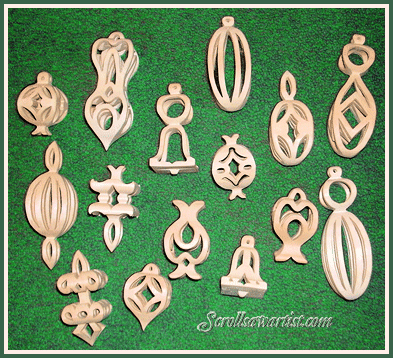 ~~~~~~~~~~~~~~~~~~~~~~~~~~~~~~
~~~~~~~~~~
Visit the
Special Offers
category for pattern sets at reduced prices and a great deal on seven digital books: 40 Christian crosses, 44 Christmas projects, 40 Boxes, 46 Angel-themed projects, 50 Signs & Plaques, 50 Clocks and 40 Love & friends patterns.
Patterns purchased from my website are conveniently delivered as downloads to your computer for immediate printing and use. All patterns are available