I want to thank all the well wishers about my pending retirement. A common thread in most of the email was that "It was the best thing I ever did.". I heard that over and over in the hundreds of email I received today. A few people warned me about how much busier they are in their retirement.
That sounds good to me. The last thing I want to do is sit in the recliner and watch television. Except for "Madam Secretary", I love that show. Oh and Monday Night Football, Dancing with the Stars, American Pickers, Antique Roadshow, Kentucky Wildcat basketball, The Little Couple, Nova, NBA Basketball, Anything on The History Channel, Real House wives of Atlanta(just kidding). Ut oh, maybe I will spend a little time in the recliner. :) I can't wait.
Check out these fun and beautiful Easter scroll saw patterns from Sue Mey in her latest e-Magazine. The value of this e-Mag is as always, fantastic. You get multiple patterns from a world class pattern designer for the price of one or two patterns. Thanks Sue.
Note: The items shown are linked to the website - Click on either the Description or the Image for it to open there
Here is the latest issue of my

e-Magazine

. A few weeks ago I asked for votes on the question: What would you like to see in future issues of my e-Magazine? The majority vote was for 'Some seasonal patterns plus various other patterns', which is basically what I have been doing, although some issues have had more unrelated patterns included than other issues. So, from now on I will add various patterns to the mix, and try to fulfil some of the specific requests that were stated in the comments section of the poll. Some of the wishes addressed in this issue include a stand-alone shelf unit, a hanging shelf, small patterns that are more complex to cut, 3D items, and specifically a 3D bird, useful objects as opposed to purely decorative, a cross, and a clock. There are also some projects for Easter, Mother's day, and a handy necktie/belt hanger for Dad.
To see the Table of contents for more detail on the projects and articles included, click on either the description or the image below. Vector files are available on request.
NW1582 E-Magazine Issue 9 - March 2016 $8.95.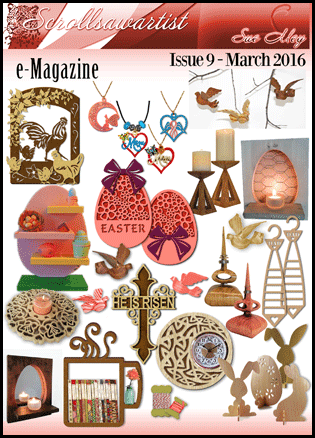 ~~~~~~~~~~~~~~~~~~~~~~~~~~~~~~~~~~~~~~~~
Visit the Special Offers category for pattern sets at reduced prices and a great deal on seven digital books: 40 Christian crosses, 44 Christmas projects, 40 Boxes, 46 Angel-themed projects, 50 Signs & Plaques, 50 Clocks and 40 Love & friends patterns.
Patterns purchased from my website are conveniently delivered as do