Here is the latest e-magazine information from Sue Mey. This is a sweet heart of an issue. Bad pun but the issue is great. Get ready for Valentine's Day. The compound cut "Be my Valentine" pattern alone is worth the price of this issue. Go get this issue right now and support one of the finest pattern designers in the world. Thanks Sue. Beautiful work.



-
Note: The items shown are linked to the website - Click on either the Description or the Image for it to open there
The eighth issue of my
e-Magazine
is now available. This issue contains several hearts and projects for Valentine's Day coming up in February. However, there are also items that can be used for a Wedding, Anniversary, or even Mother's Day. The Home sign, Rose plaque, and Candle stand will be appreciated all year round. For those of you who enjoy compound-cut projects, I included the Valentine's cracker, made from 1 1/2" x 1 1/2" wood. The Ampersand projects are equally attractive as wall décor, or freestanding decorations. There is also a leash hanger, and two recipes to make your own colored chalkboard paint for this project. Since there was already a dog-themed project in the mix, I added the Soldier's Best Friend silhouette plaque, which is best done in a dark wood, or painted with black. I hope you find a few items in the selection that appeals to you. Included are 16 different patterns – all new, and not available on my website.
To see the Table of contents for more detail on the projects and articles included, click on either the description or the image below. Vector files are available on request.
NW1513
E-Magazine Issue 8 - January 2016
$8.95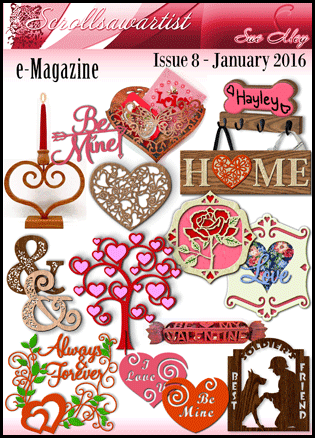 ~~~~~~~~~~~~~~~~~~~~~~~~~~~~~
~~~~~~~~~~~
Visit the
Special Offers
category for pattern sets at reduced prices and a great deal on seven digital books: 40 Christian crosses, 44 Christmas projects, 40 Boxes, 46 Angel-themed projects, 50 Signs & Plaques, 50 Clocks and 40 Love & friends patterns.
Patterns purchased from my website are conveniently delivered as downloads to your computer for immediate printing and use.
_____________________________________________________
The Scrollsaw Workshop is primarily supported by donations. If you enjoy this Blog and would like to make a donation please click this link. Your support is greatly appreciated.

Make A Donation
Each digital book is available for download immediately after payment.
The books are $12 per edition and contains eight unique patterns each.
Click now and make a family heirloom this weekend.
If you would like to have all the patterns in the Scrollsaw Workshop catalog you can buy the first six years
DVD and the 2013 update DVD at this link
. DVD #1 is $20 and contains over 1,100 patterns. The 2013 update DVD is $7.50 and has another 178 patterns. The 2014 update DVD is $7.50 and has another 223 patterns.