By far the busiest time of the year for my blog is the Christmas holiday season. One thing you can count on is that Sue Mey will have wonderful holiday themed patterns available. Sue has just released her e-Magazine issue #7 and it's full of holiday cheer. If you need a special project for a special person check out Sue's patterns.
Note: The items shown are linked to the website - Click on either the Description or the Image for it to open there
The Holiday issue of my
e-Magazine
is ready. With this seventh issue, it has been a year since the idea was brought into being. Thank you for supporting the endeavor, I hope to produce many more to come. This Holiday issue is all about Christmas, and several of the items are illustrated in the traditional red, green and gold colors. If you prefer not to apply paint, simply make them as natural projects. Included are new versions of some of the favorites on the website, for instance the compound-cut ornaments with inserts, an ornament tree, and the small tea light boxes and slotted tree, which are featured in a three dimensional candle stand. There are 17 different patterns/pattern sets – all new, and not available on my website.
To see the Table of contents for more detail on the projects and articles included, click on either the description or the image below. Vector files are available on request.
NW1430
E-Magazine Issue 7 - Holiday
2015 $8.95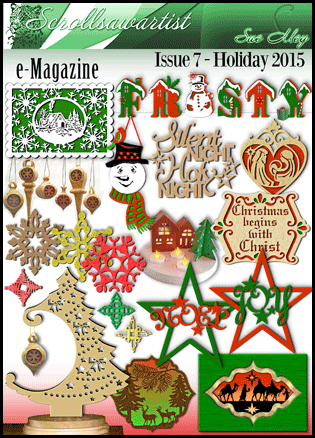 ~~~~~~~~~~~~~~~~~~~~~~~~~~~~~
~~~~~~~~~~~
Visit the
Special Offers
category for pattern sets at reduced prices and a great deal on seven digital books: 40 Christian crosses, 44 Christmas projects, 40 Boxes, 46 Angel-themed projects, 50 Signs & Plaques, 50 Clocks and 40 Love & friends patterns.
Patterns purchased from my website are conveniently delivered as downloads to your computer for immediate printing and use.
-
The Scrollsaw Workshop is primarily supported by donations. If you enjoy this Blog and would like to make a donation please click this link. Your support is greatly appreciated.

Make A Donation
Each digital book is available for download immediately after payment.
The books are $12 per edition and contains eight unique patterns each.
Click now and make a family heirloom this weekend.