I spent the day at the Woodworking in America show. It was held in Covington Kentucky which was a short drive for me. I videoed some of the show and I hope to edit it into something worth showing. I'll try to put that together tomorrow. I enjoyed getting to talk with all the people who recognized me. Thanks for taking the time to stop and say hi.

There were a few products that I had not seen before that were very interesting. There was a re-saw sled for bandsaws that I thought looked useful.

I received a great demo at the Lie Nielsen booth on hand planes. Those top of the line hand planes are a work of art.

Chris from Drillnado/Scrollnade was there and we had a great conversation about his products that I'll share more of later.

Obviously there was much more to the show and if the video I took is usable I'll post it in a day or two.

Sue Mey sent me the information for her latest eMag. I know that many of you enjoy seeing what she does so I am happy to post reminders when it comes out. It looks like this edition has a fall theme. Summer is almost over!

-

Note: The items shown are linked to the website - Click on either the Description or the Image for it to open there
Already two years since I first committed to doing the

e-Magazine

! There are several Halloween projects in this issue – some for those who like to cut two-dimensional items, and also a game board with compound-cut pumpkin pieces. Inclusion of a tribal animal has been requested, and there are two – each in a different style. The yarn bowl on my website has proved to be popular, so I decided to include another version here. I further added some easy projects for the people who are just starting out with scroll sawing. The Misty mountains Layerscape made up of five layers, will be enjoyed by the crafters who love to add color to their projects...
To see the Table of contents for more detail on the projects and articles included, click on either the description or the image below. Vector files are available on request.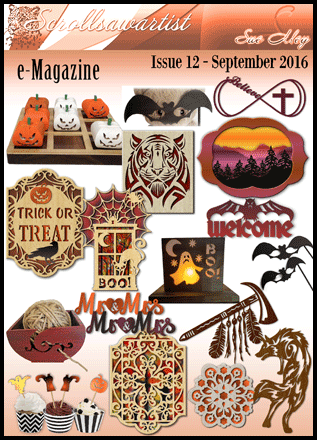 ~~~~~~~~~~~~~~~~~~~~~~~~~~~~~~~~~~~~~~~~
Visit the Special Offers category for pattern sets at reduced prices and a great deal on seven digital books: 40 Christian crosses, 44 Christmas projects, 40 Boxes, 46 Angel-themed projects, 50 Signs & Plaques, 50 Clocks and 40 Love & friends patterns.
Patterns purchased from my website are conveniently delivered as downloads to your computer for immediate printing and use.

-
The Scrollsaw Workshop is primarily supported by donations. If you enjoy this Blog and would like to make a donation please click this Button. Your support is greatly appreciated.
You do not need a PayPal account to donate. All donations are handled securely through PayPal. I do not see your credit card information. I do receive your email address. I only use the email address to send thank you emails. Your email will not be sold or given away.
Each digital book is available for download immediately after payment.
The books are $12 per edition and contains eight unique patterns each.
Click now and make a family heirloom this weekend.
If you would like to have all the patterns in the Scrollsaw Workshop catalog you can buy the first six years
DVD and the 2013 update DVD at this link
. DVD #1 is $20 and contains over 1,100 patterns. The 2013 update DVD is $7.50 and has another 178 patterns. The 2014 update DVD is $7.50 and has another 223 patterns.
Ad: Affiliate
Inovative dust collection accesory for the scroll saw

Picks up nearly all of the dust while scroll sawing

Works with Dewalt DW 788, Delta 40-690, Delta 40-694, Delta 40-695

Collects dust above and below your workpiece and scroll saw table

Installs easily in minutes. Top tube attaches magnetically and is easily adjusted.